Widely famed as the most lively nightlife and party destination in Greece, Mykonos receives thousands of visitors in summer, including celebrities. The island of Mykonos is unique for its cosmopolitan party scene and hospitable environment. One of the island features are the bars.
You can visit the thrilling beach bars which host parties with popular DJs from across the globe, vibrant bars with loud music and live gigs, as well as exotic cocktails. You can opt to visit the lounge bars for a romantic night out. There are several rooftop bars on the island offering spectacular panoramic views of its picturesque scenery.
The Sky Bar
Source: Link
Sky Bar is a relaxation spot that has been newly added to Andronikos Hotel. Situated at Mykonos Town's outskirts, Sky Bar is an ideal place to enjoy Spectacular vistas of the Island's town. You can also relish the culinary delights of the bar like the exotic cocktails, drinks, and signature Greek and Mediterranean cuisines. Explore the setting of the sun over the Aegean Sea and the natural surroundings, while unwinding. You can also enjoy the rest of the night every day by joining in the cocktail specials, DJ sets, pop music or live jazz concerts and poolside entertainment.
Sunset Cabaret Bar
Source: Link
Located at the rooftop of Elysium Hotel, Sunset Cabaret Bar is a famous regular gay hangout for a variety of sunset cocktails over the town of Mykonos. Watching the setting of the sun below the western horizon from this spot is a tradition on the Island. Resting on the terrace of The Elysium Hotel, Sunset Cabaret Bar provides wonderful panoramic vistas and a vibrant environment. At the hours of the evening, it is a whole new unforgettable experience at the Sunset Cabaret Bar, with gigs and loud music.
Delos Lounge Rooftop Bar
Source: Link
Luxurious décor settings, spectacular views, and excellent services are the factors that contribute greatly to the success of the Delos Lounges. No wonder it is among the best rooftop bars on the Island. Located at the top of Mykonos Blu Hotel, this picturesque bar overlooks the gardens, pool, as well as the popular Psarou Beach. Sip your champagne or an exotic cocktail while enjoying the beautiful sunset views or hang out with friends for an after-dinner drink.
Delight Pool & Lounge Bar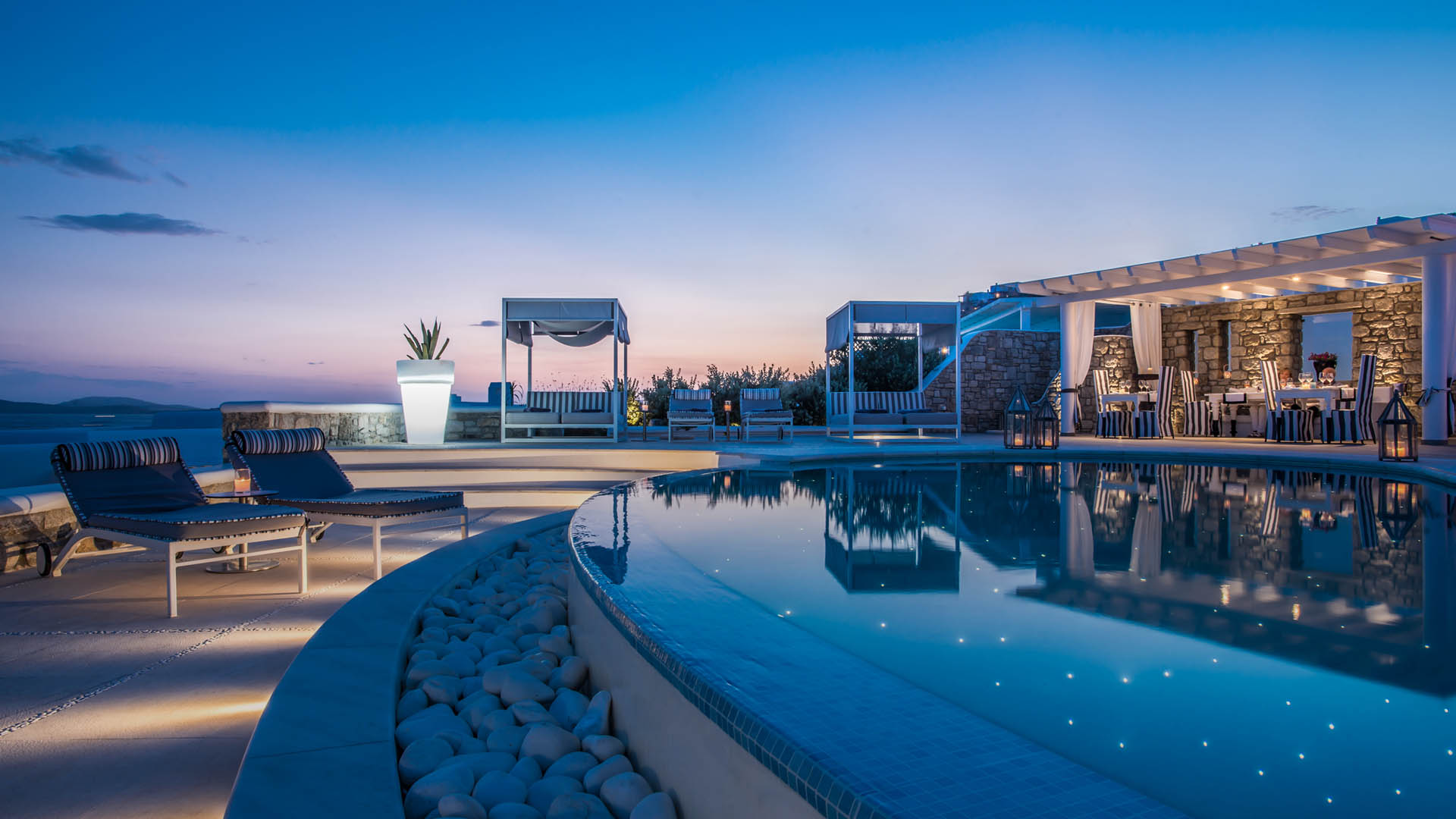 Source: Link
Positioned at the top of Delight Mykonos Boutique Hotel, the Lounge Bar is the ideal spot to catch a glimpse of the sunset sky over the Island. Delight Pool and Lounge Bar offer a comfortable and relaxing atmosphere, where you can sip an exotic cocktail and listen to soothing background music. After spending all day under the hot Greek sun, cooling down with a chilled cocktail or freshly made fruit juice in the lounge bar is a smart idea. Delight Pool & Lounge Bar offers a long list of exotic and classic drinks on their menu which is skillfully prepared by the bar's mixologist.