Greece has numerous spectacular rooftop bars. You can find them in abundance in the big cities such as Thessaloniki and Athens. Enjoy panoramic views of the Sea, mountains, lush greenery, and picturesque environment, while sipping tasty and exotic cocktails. Check out the best rooftops bars in Greece.
Galaxy Bar
Source: Link
Galaxy Bar is a very famous rooftop spot situated at the Hilton in Athens. This bar is a stylish destination for after dinner drinks or sunset cocktails. Galaxy bar has a vibrant and luxurious atmosphere with unparalleled views. A mix of restaurant and bar services, the bar is designed in modern and simple settings. During the summer season, this rooftop bar gets so crowded, which means you will have to get there earlier or be ready to wait for a seat. However, the vistas of Athens from Galaxy Bar and the energetic music will certainly keep you entertained.
Orizontes Roof Garden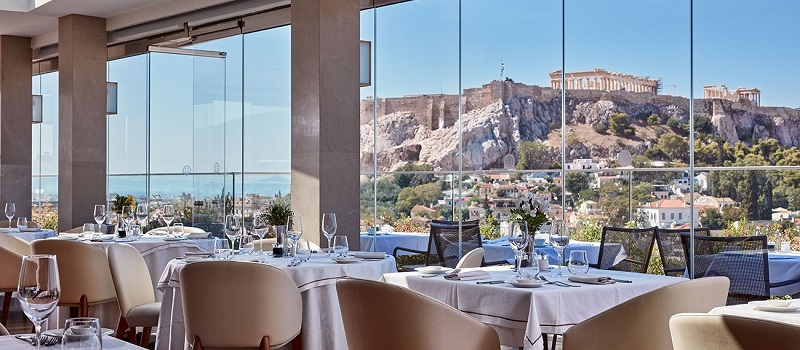 Source: Link
One cannot afford to exclude Orizontes from the list of rooftop bars in Greece. Located specifically in Thessaloniki, Orizontes can be found at the top of the renowned Electra Palace Hotel. This rooftop garden bar in the heart of Thessaloniki features amazing panoramic views of the city, Aristotelous Square, as well as Mount Olympus. Unlike some other rooftop bars in the city, Orizontes contains a chic décor setting and serves delicious signature cuisines and drinks. No matter the time of the day or night you stop by at Orizontes Roof Garden, you are sure of enjoying yourself there.
Vanilla World Skybar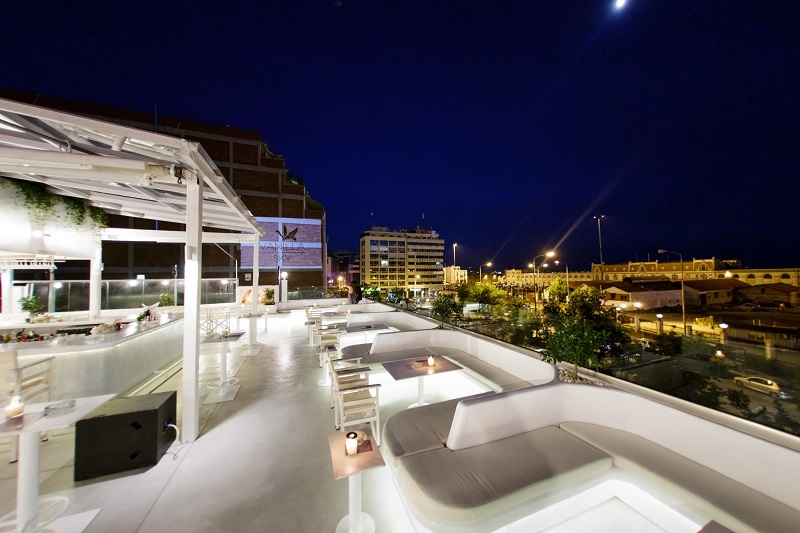 Source: Link
Vanilla World Skybar, popularly called Vanilla Sky is well-known for its simple but luxurious settings and offers spectacular views over the Port of Thessaloniki. Have a taste of the contemporary aesthetic and exotic cocktails, while entertaining your eyes with the waterside vistas and listening to the relaxing playlists. Vanilla Sky is ideal for those nights where you want to groove and join the exciting nightlife. You can never go wrong with Vanilla World Skybar as it is one of the best summer spots in Thessaloniki.
Base Cafe & Roof Cocktail Bar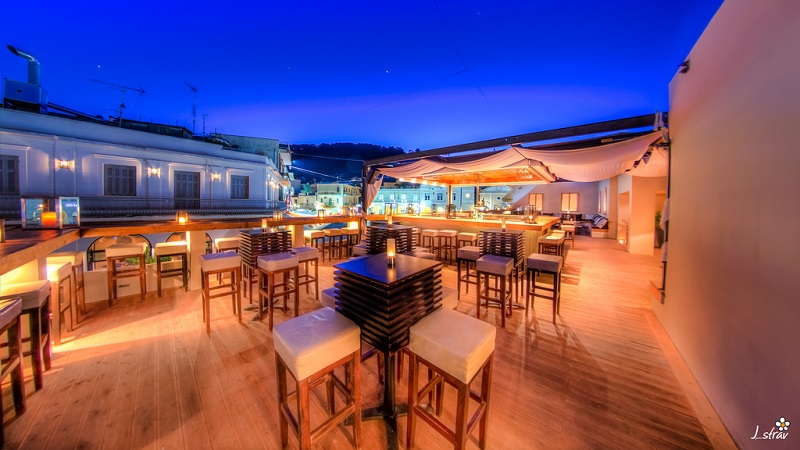 Source: Link
Lying at the heart of Zakynthos town, Base Cafe & Roof Cocktail Bar is a great choice for unwinding during the day with coffee or chilling at night with exotic drinks. You can find Base Roof Cocktail Bar right on top of the Base Café and it runs from late hours of the afternoon till dawn. Featuring chic designs, warm ambiance, guest DJs, great concerts and events all through the year, you can never be bored with this Roof Cocktail Bar. Enjoy different varieties of signature cocktails by experts in this bar as they always ensure to create and add new cocktails to their menu every year.
To Palio Hamam Café Bar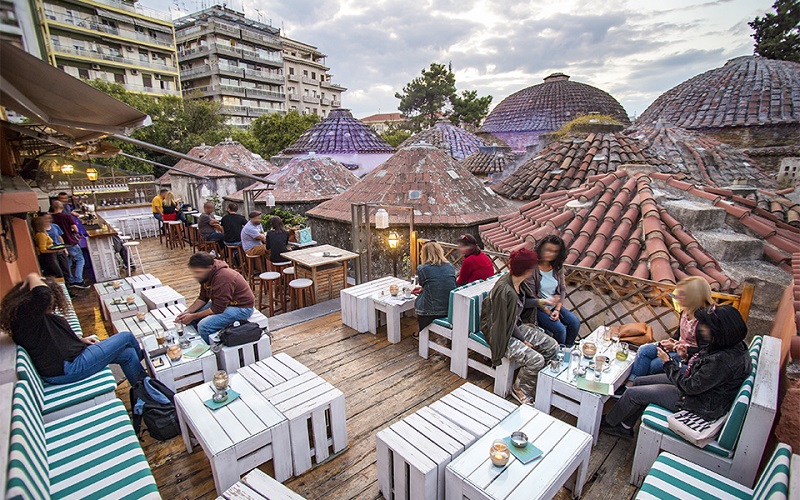 Source: Link
Thessaloniki is renowned for its ancient architectures and cultural heritage which mostly are unspoiled. One of the significant buildings is the Ottoman bathhouse, Palio Hamam located off Egnatia Street. Palio Hamam presently organizes art exhibitions and cultural events and its top attraction is unarguably the rooftop Cafe Bar. To Palio Hamam Café Bar provides you with views of Hammam, as well as its domes.