Euboea also known as Evia, is the second largest Greek Island, in population and area. Every year, thousands of people from all over the world come here to have the fun of their life. If you decide to spend some time in Euboea, here are the most beautiful places you should visit.
Bridge of Khalkis
Source: Link
Khalkis Bridge is a narrow point that separates the Chalkida from the continent. What makes it truly interesting is the powerful water current that passes through, where visitors can stay and watch. The current can be flowing in one direction, and a few hours later it will flow in another direction. To see this strange phenomenon, you'll have to walk on top of the bridge.
Archaeological Museum of Eretria
Source: Link
For the lovers of art, the Archaeological Museum of Eretria is the perfect place to be. Established in 1960, the museum offers a collection of artifacts that have been unearthed from the cemetery of Skoumbri, Toumba in Lefkandi, and at Xeropolis. Although small in size, the cemetery provides an opportunity for visitors to learn a lot about the history and culture of the people that live in that area thousands of years ago. You'll find the black-figure Epinetron taken from Amarynthos dated to the 6th century BC. Also on display are several vases and amphoras, terracotta gorgoneion which is dated from the 4th century BC, and some notable sculptures.
Waterfall of Drimona
Source: Link
After activities under a hot sunny afternoon, you'll want to go to a place where you can enjoy the cool breeze. Drimona is a small waterfall that is full of everything nature has for humanity. Surrounded by rare plants and rocks, the waterfall has small paths ways all of which contributes to a wild atmosphere. Here you can engage in various fun activities including rappel training, hiking, swimming, or just relaxing around the water. Drimona is a place anyone visiting Euboea should never miss for anything in the world.
Kalamos Beach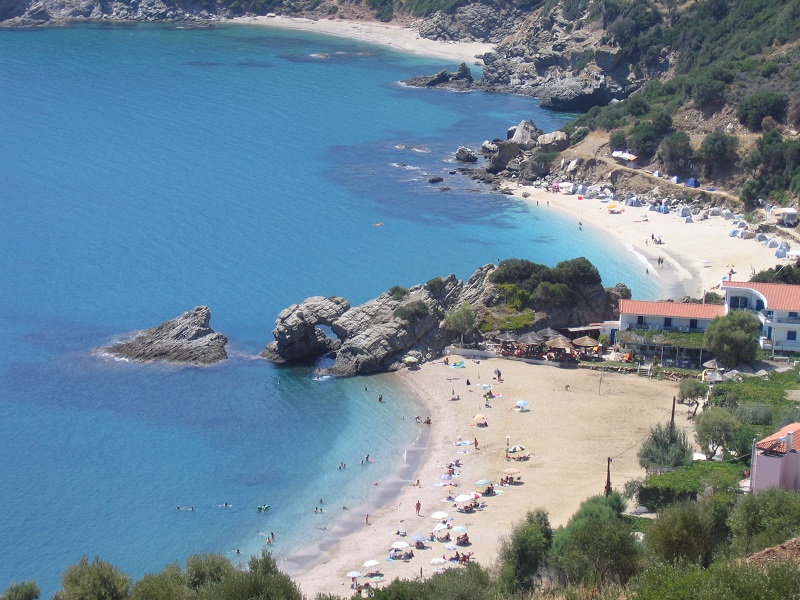 Source: Link
Everything about the beauty of nature resides here. Visiting can be a really fun time as there are many activities to get involved with. Kalamos beach is on the east side of the Euboea, about 40 min drive from the town of Amarynthos. People love the beach because it is located in a secluded bay, lying between rocks, and blessed with blue and clean waters. When you're visiting during the winter, you can be sure of enjoying yourself without too many people, because the place is with fewer crowds. Activities you can take part in include swimming, snorkeling, and walking by the beach. If you're hungry, there are several beach bars where you can get delicious food and drink to quench your taste.
Avantis Estate Winery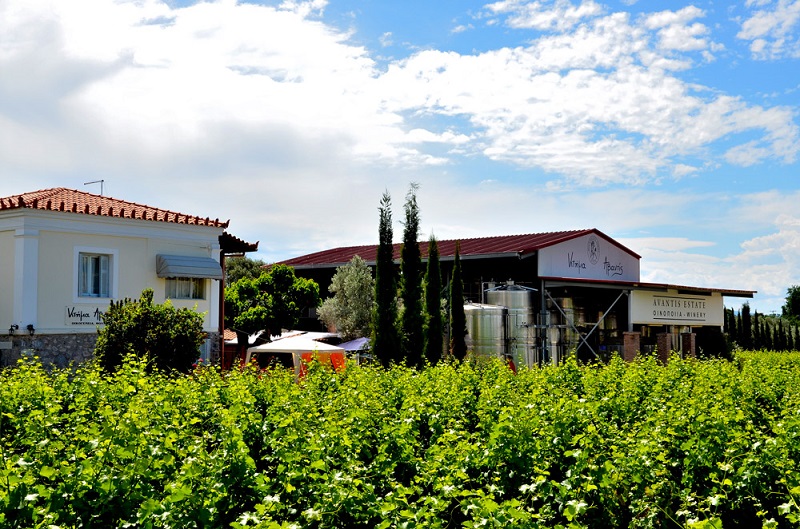 Source: Link
If you love wine, then you should never miss the opportunity to pay a visit to the Avantis Estate Winery. Although agrotourism is a new phenomenon in Greece, the winery is worth every second you spend there. You'll have the chance to learn about how wine is made, from the planting to harvesting, and the processing. Avantis Estate Winery in Evia is a tour you will never forget in a hurry.