Delphi is considered the center of the world. The name 'Delphi' was coined from 'Dolphin' because it is widely believed that Apollo first visited the region in the shape of a Dolphin. Delphi is located in Phocis, a region in Greece. It is well known as the seat of the high priestess of Apollo called Pythia. Delphi was originally called Pytho in ancient times. It is located near the Gulf of Corinth. It was the city where guidance and predictions were given to humans in ancient times. Here are a few things about Delphi that you should know;
Center of the world
Source: Link
Delphi is believed to be the navel or center of the Earth. Greek deity, Zeus released two birds; Eagles into the air. One went towards the East and the other towards the West, the two birds met at Delphi after they had gone around the world. The point at which they met is called Omphalos in Delphi.
Apollo Influence
Source: Link
Apollo is worshipped in Delphi because he killed a serpent also called 'drako' and became the protector of the region. The site where Apollo killed Python is referred to as Krisa.
Oracle of Delphi
Source: Link
Delphi was also popularly referred to as Python because it was in the region that the goddess, Python met her doom in the hands of Apollo. A priestess of Apollo also known as Pythia answered questions from inhabitants on how they wished to be guided in their future endeavors. The sessions with a priestess usually last about a whole day.
Delphi Games
Source: Link
Delphi like other religious regions in Greece held Games to honor Greek deities. The Pythian Games commenced in 591BC and were held every eight years. The main event that took place at the Pythian Games was a musical competition. During the competitions, solo musicians sang hymnals to Apollo.
Notable Sites
Source: Link
Delphi has some beautiful archeological sites which include the Doric Temple, a temple built in the honor of Apollo and the Alcmaeonids Temple. Other monuments in Delphi include; the golden four-horse chariot; a gift from Rhodes and a very gigantic bronze image of the Trojan horse.
Delphi Tholos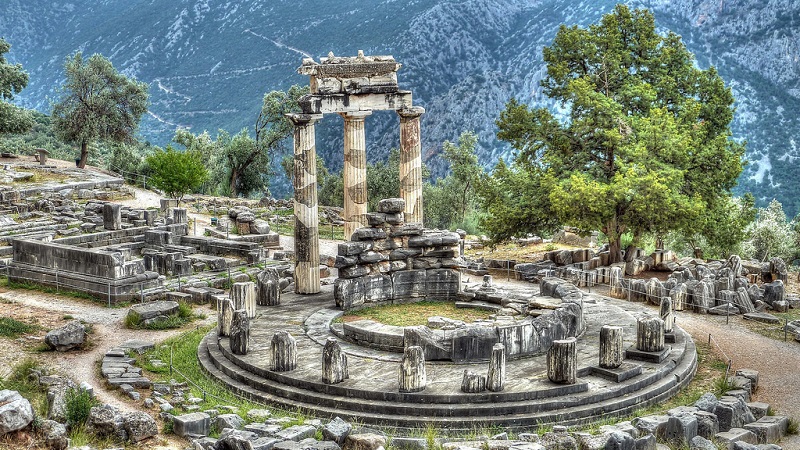 Source: Link
The Delphi Tholos is one of the medieval structures of Delphi. It is a UNESCO World Heritage Site. It has a circular design and stands about 13.5m in height at the middle of the Athena Pronaia temple. Metopes were constructed on these buildings to depict different events.
Delphi Theatre
Source: Link
The Delphi Theatre was built in the same hill as the Temple of Apollo. The theatre was constructed with limestone in the 4th century. It has over 35 rows that can accommodate an audience of about 5000. Many events are still hosted here to date.
Treasury of Athens
Source: Link
The treasury of Athens was constructed in Delphi to accommodate offerings and dedications made to Apollo by Athenians.
Patron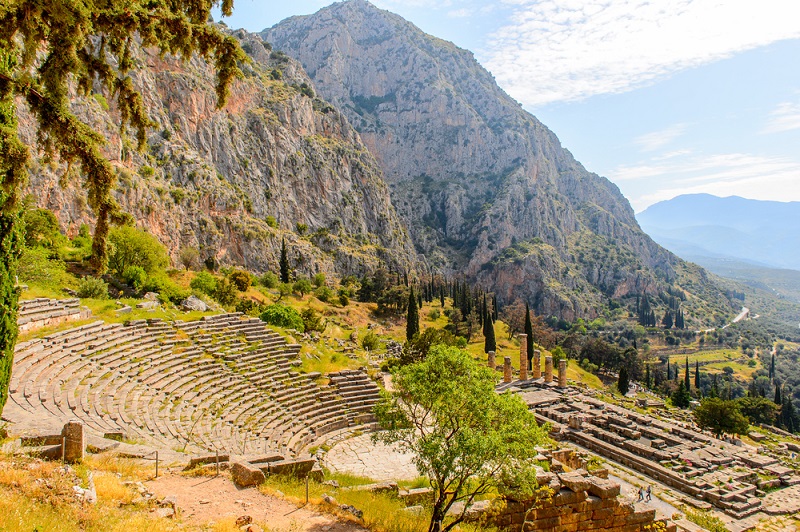 Source: Link
Delphi was originally guided by Gaia who was known as the 'Grandmother of the Earth'. The city was guarded by a dragon, Python on the instructions of Gaia. This was the monster Apollo killed.
Phoebe
Source: Link
Phoebe was the third goddess to become a priestess of Delphi. She also happens to be the grandmother of Apollo.