Greece has always been a favorite place for vacation or holidays because of its natural endowments and beautiful sceneries. Many also love this place because of its delicious cuisine prepared with fresh ingredients. Greek dishes are some of the best in the world delivering awesome delight. Here are few of the rich and popular Greek dishes that have been recognized globally.
Taramasalata
Source: Link
The delicious Taramasalata is a favorite dish among many people living within and outside Greece. It is a creamy blend of white or pink fish roe made from smoked fish roe and mixed with lemon and olive oil. You can either decide to purchase this fish roe dip (made industrially) from the supermarket or other similar stores or create a homemade taramasalata.
Moussaka
Source: Link
You can find several moussaka dish variations around Balkans and the Mediterranean. This is a classic Greek dish that can be made with cheese. It includes sautéed aubergine layers, fried puréed tomato, minced lamb, garlic, onions, few potato, and spices (e.g. cinnamon) with béchamel sauce and cheese as the toppings.
Fresh fish
Source: Link
Fresh fish dishes are popular in taverns and restaurants at the seaside, which was a staple meal for locals in ancient times. Calamari and fish gotten fresh from the Aegean and Mediterranean seas are unbelievably tasty and are very easy to make- grilled, or boiled with dressing.
Kolokythokeftedes (Courgette balls)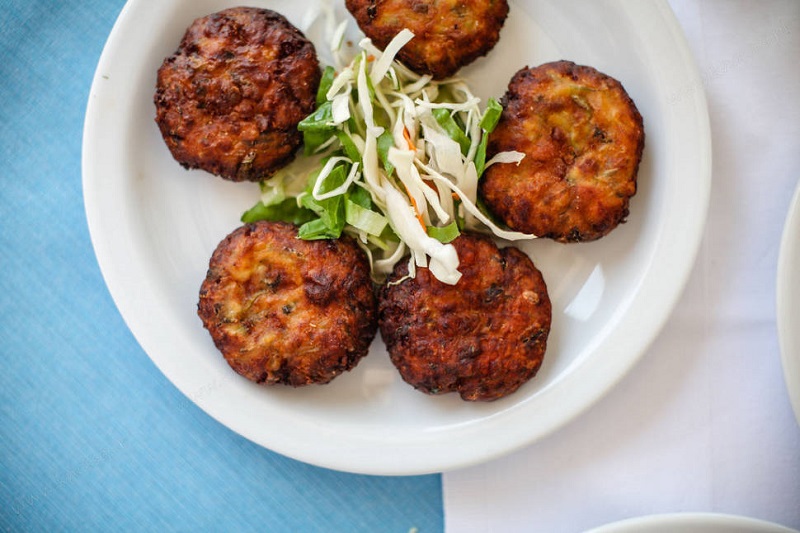 Source: Link
A very popular variation of the Courgette balls is Courgette fritter with sauce. To craft this dish, cooks will fry the balls or dip into a patty. Its a combination of puréed or grated courgette with mint, dill and other spices.
Octopus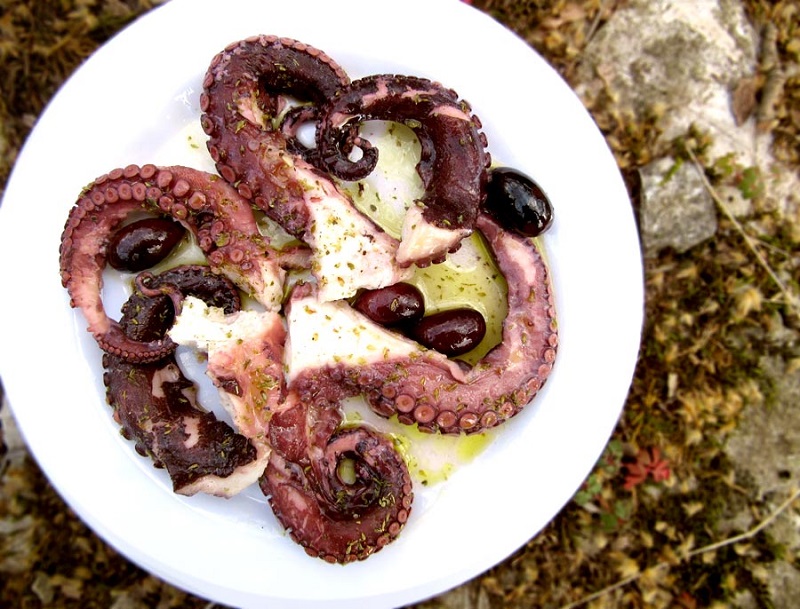 Source: Link
Close to the harbors in Greece, octopuses are caught by the fishermen and hung to dry. They can be marinated and eaten as main course meal or grilled and eaten as an appetizer.
Honey & baklava
Source: Link
This sweet dish is loved by many Greeks and foreigners. The simple Baklava recipe includes filo, honey, and groundnuts. The nutty baklava dish gives a desirable syrupy sweet taste.
Souvlaki (Lamb grilled skewers with wrap and vegetables)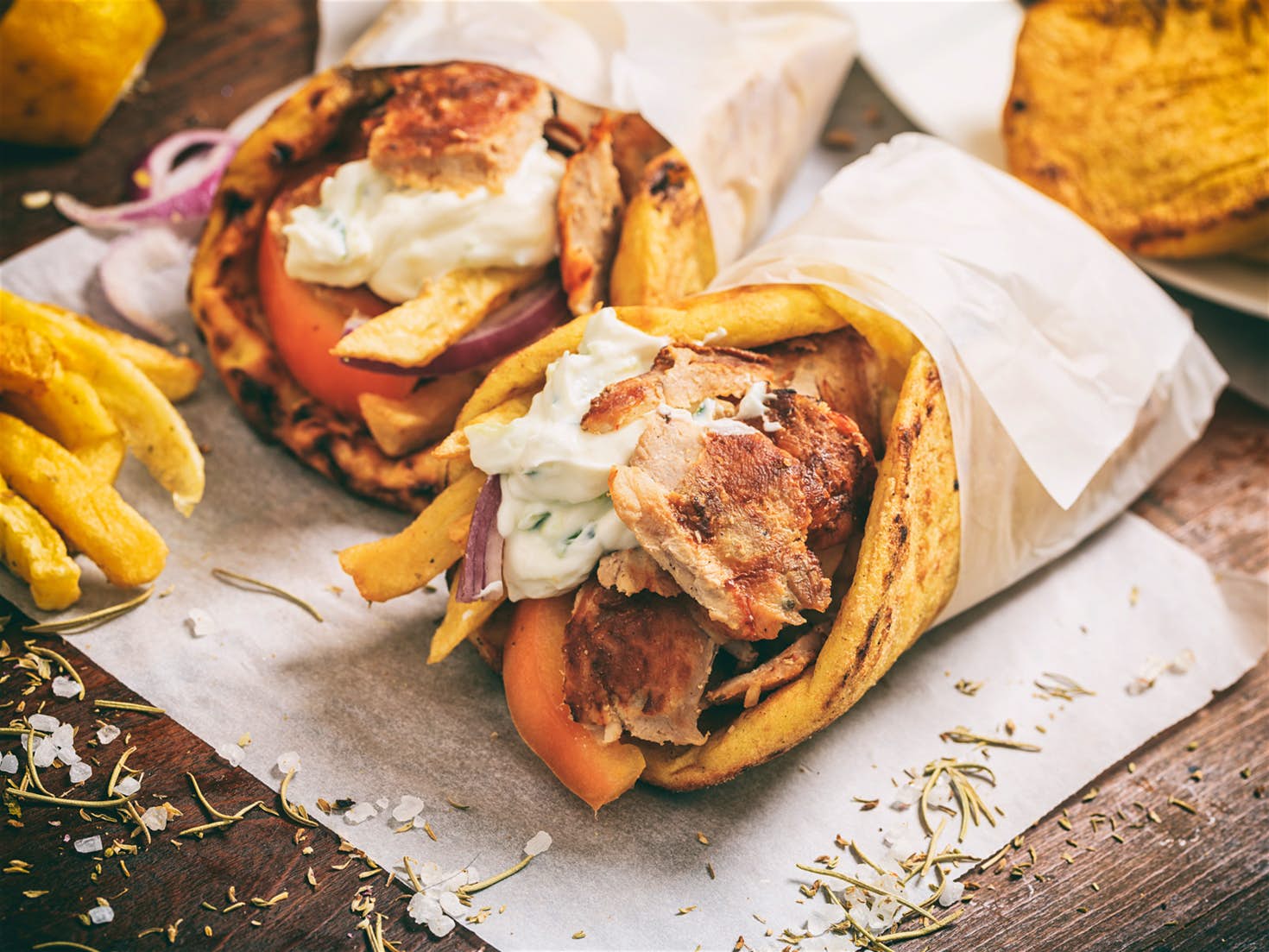 Source: Link
When it comes to making spit-roasted and charcoal-grilled meats, the Greeks can't be pushed aside. Souvlaki contains chunks of skewered pork dish which is a favorite quick food in Greece, served on chopped onions and tomatoes in pitta bread with tzatziki lashings.
Dolmades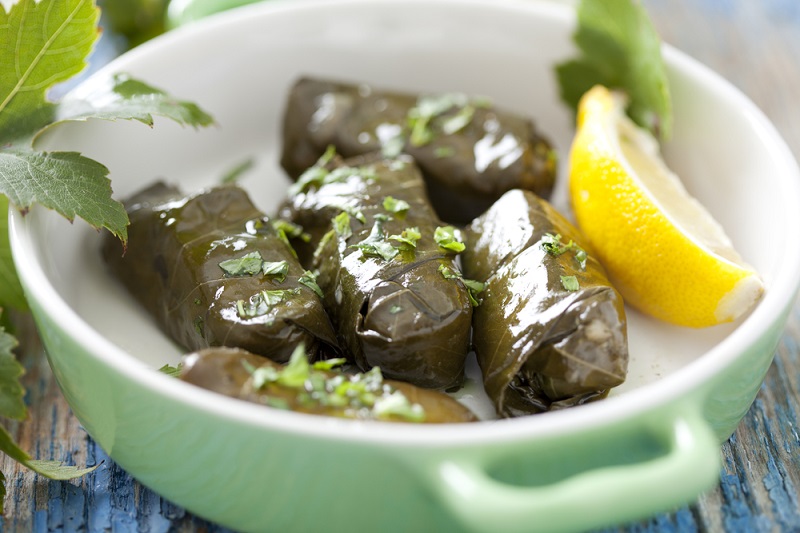 Source: Link
Dolmades can be made in several variations. It can be stuffed up using minced meat and long-grain rice spiced with combinations of spices/herbs such as dill, thyme, oregano, and fennel. You can also make use of pine nuts.
Tomatokeftedes
Source: Link
This Greek dish is prepared similarly as kolokithokeftedes, but tomatoes are used as the main ingredient instead of courgettes. Tomato fritters are very tasty especially when they are made with Santorini cherry tomatoes.
Pastisada
Source: Link
Appetizing meat casserole of Venetian origin. Pastisada is typically made with beef and slow-cooked with onion, tomato, olive oil, and garlic. Spices like cumin, cloves, cinnamon, nutmeg, bay leaf, paprika, and black pepper, are also added. Serve with thick tubular spaghetti.
These dishes can easily be found in local taverns, restaurants, and hotels in Greece. People of other cultures and traditions widely accept them.