Much is expected from a tourist destination like Greece which is constantly bustling with a crowd. When it comes to shopping people are not always looking for the best quality or named brand products. Sometimes they look for the cheaper options or just want to immerse themselves in the local flea market atmosphere. This is where street markets come into play. If you ever get to visit Greece, you should embark on some retail shopping from any of these bubbly street markets.
Laiki Agora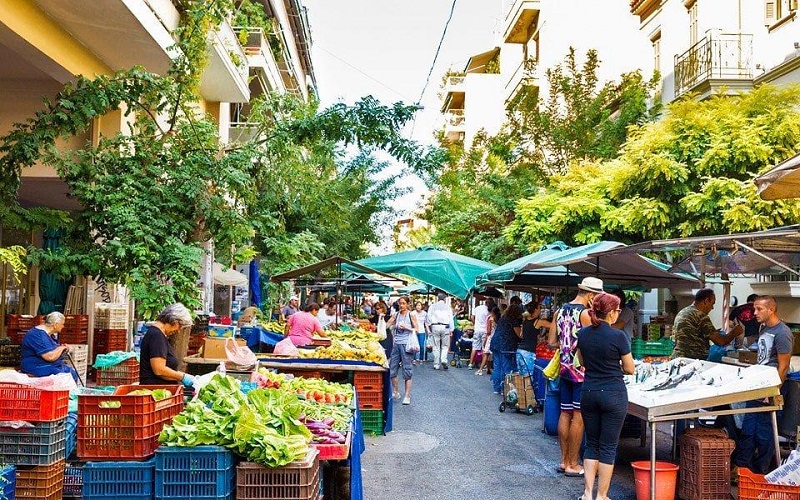 Source: Link
Located on Kallidromiou Street in Exarcheia district is the boisterous Laiki Agora where visitors can purchase groceries and vegetables, herbs, dry fruits and some household wares. This market is held every single day at different points in the city. The market has numerous food stalls which are positioned in front of lovely graffiti.
Antique Market
Source: Link
The Antique Market is located at Avissynias square off Ifestou Street. The market days are every weekend and visitors are welcome to shop for items like old books, antiques, pottery, ceramics and other spectacular finds. The trade fair extends through Ermou Street to Thisseio metro station. Get in the mood to haggle for any item that tickles your fancy; it's all part of the fun. If you feel famished, you can buy food at the tavernas that surround the market.
Piraeus Central Market
Source: Link
Located at Piraeus is the mammoth Piraeus central market. The street market lies close to a port along Gounari Street. You can shop for fresh fish, seafood, vegetables, meat and cheese from this market. There are little stores and narrow stalls that carry a wide variety of olive oil, wine, spices, legumes, and herbs. Nearby there are also many cafes and restaurants where you can satisfy your taste buds should the need arise.
Athens Central Market
Source: Link
The Athens central market is located on the bubbly Athinas Street. It is popularly called 'Varvakeios' by the locals and it is one of the best places to buy cheap food ingredients. You will find meat and fish products on one side of the busy market, and vegetables and groceries on the other side. At this market, your 5 senses will be activated. You can shop for the best grade of feta cheese and fresh olives. Get ready to slide into water-resistant shoes before you visit the fish area of the market which is always water-logged. This market opens on Mondays and operates through to Saturdays. You can visit this market very early in the mornings and leave around late noon when sellers close shop for the day.
Piraeus Flea Market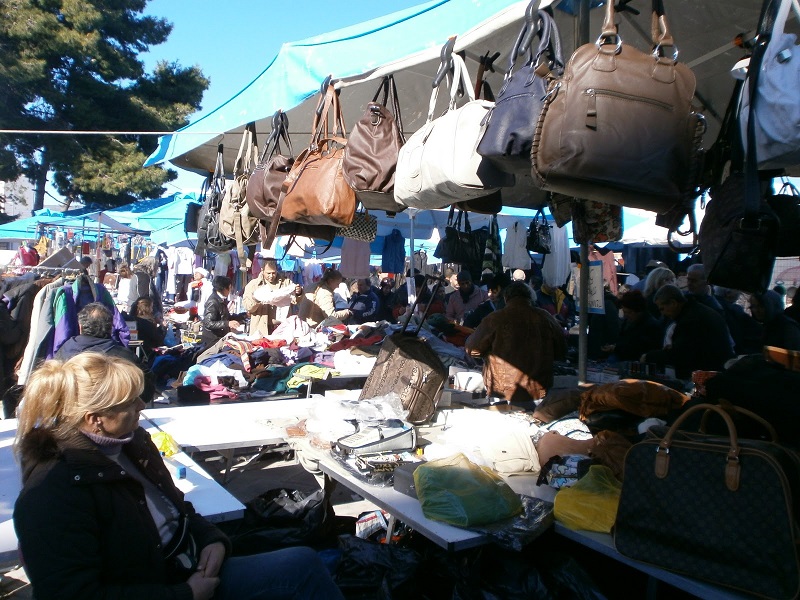 Source: Link
At Piraeus Flea Market, you will experience what it truly means to be in a market. The market is held every Sunday from dawn till late noon. The market is just at the back of the metro station, and it expands along the railway tracks. At this market, you can get virtually everything. Sellers of fake designer bags, clothing apparels and accessories like belts, bags, and scarves call out to buyers to market their wares. You can also get stunning footwear from the market. If you are on the lookout for household goods, you can even get some frying pans and bed linens. Get ready to elbow your way through the chaotic marketplace.
Monastiraki Flea Market
Source: Link
A large market is located very close to the Monastiraki metro station and is not just a flea market but one of the greatest side attraction in Athens. The market is filled with shops and stores which stock a huge range of products which include musical instruments, clothing ensembles, gift items, jewelry and some local items. Walk through the narrow streets filled with pubs, cafes, and restaurants where you can stop for refreshments to keep your body hydrated and safe from the heat.