Mykonos is famous all over Europe for its numerous beautiful beaches. This island is a beach paradise, and you can make a choice on which one to visit. You will definitely find a beach that meets your needs, from family-friendly beaches, nudist-friendly beaches to water sports to party beaches. Mykonos is always teeming with tourists, especially during summer. Many of the Island beaches have been refined with rentable sunbeds, umbrellas, bars, restaurants, and hotels. However, you can still find some unspoiled and less crowded beaches on the Island. Check out the most beautiful beaches in Mykonos.
Platys Gialos Beach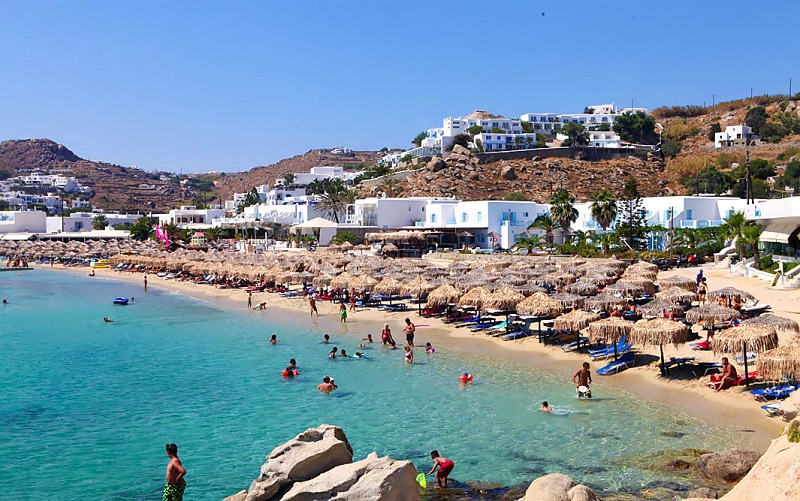 Source: Link
Platys Gialos Beach is one of the most renowned beautiful beaches on the Island and could probably be the best. This beach is about 5 kilometers Southeast of Mykonos Town and surrounded by quite some restaurants and hotels. Endowed with fine golden sand and crystal-clear waters, Platys Gialos Beach is an ideal place for young couples and families. Swimming, surfing, and other watersports, as well as beach parties, are the popular activities that take place on this beach. Another attraction of Platys Gialos Beach is the fact that you can easily access other beaches like Super Paradise and Paradise through a water taxi.
Psarou Beach
Source: Link
Have you wondered why Psarou Beach is presently the trendiest beach on the Island? That's because it is perfect for swimming and also offers picturesque scenery. Psarou Beach is a favorite among local, as well as international celebrities and it is always packed with crowds in the summer. Many people want to visit this beach to enjoy the beautiful scenery that it offers, to swim in its emerald green water, and to partake in the water sports activities of the beach. There are a lot of sunbeds available for rent, though at a high fee.  Eat a delicious meal at any of the restaurants located on the beach.
Paradise Beach
Source: Link
Are you looking for a beach party experience? Paradise Beach is the perfect choice for you. Most famed of all the beaches in Mykonos, Paradise is a favorite with the young and vibrant generation. There are numerous bars and restaurant available on the Beach. You will enjoy unending activities such as drinking, dancing, and lying on the fine sand throughout the day and night while listening to great music. There are also sunbeds and umbrellas available, and you can join the summer parties from the middle of the afternoon till dawn. Cavo Paradiso is a famous big club facing this beach and attracts major global DJs during the summer.
Panormos Beach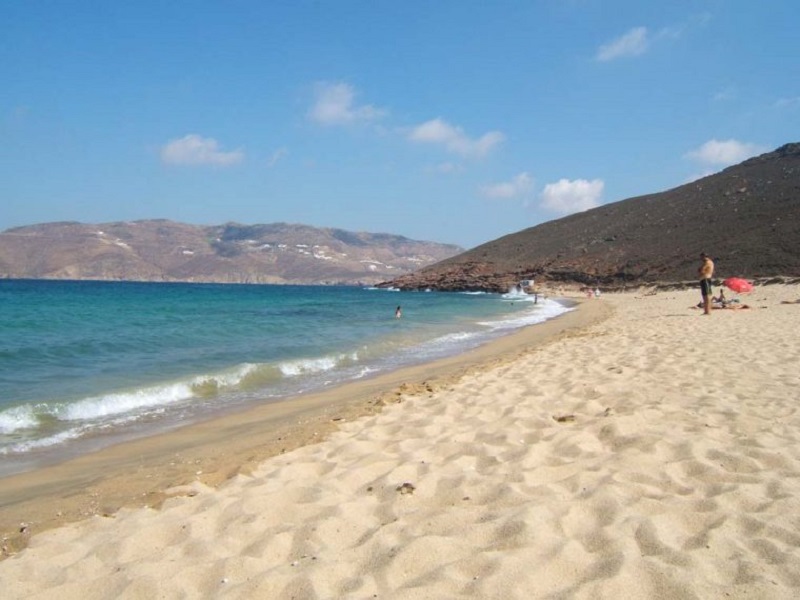 Source: Link
If you are looking for a place to get away from the noise and the crowd, then you should add Panormos Beach to your travel itinerary. It is one of the few untouched and tranquil beaches in Mykonos, ideal for naturists. Situated on the northern area of the island, this laid-back beach is endowed with golden sands and crystal-clear waters. One part of the beach is usually crowded by Nudists, although Panormos is a nice place for families and children.